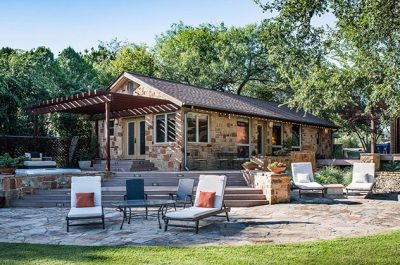 "Texas Tuscan" comes to mind in this more compact 2 bedroom, 2 bath venue of about 1,100 sq ft.
The Studio's more traditional interior is accentuated by furnishings and art work collected from Europe by four generations of family.
Details
• 2 bedrooms, 2 baths, and a sleeper sofa in the living room.
• Each bedroom has its own bath, but access from sleeper sofa to bath is through the bedrooms.
• The Finch Bedroom, with a terrific river view, has a twin bed with a trundle bed, an armoire and attractive bath with closet.
• Tuscan Master Bedroom has a queen bed and spacious master bath with 2 closets and walk in shower.